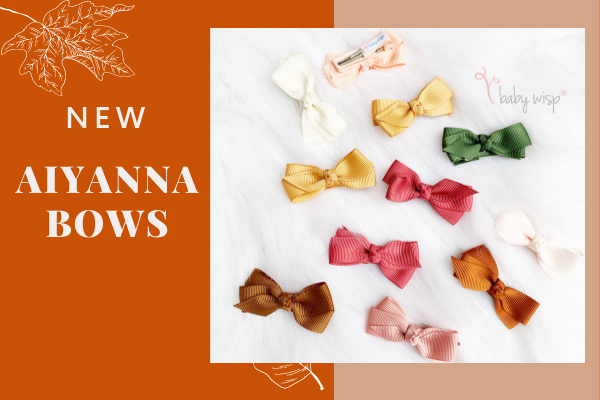 Introducing New AIYANNA BOWS - Boutique Ribbon Hair Bows on Alligator Hair Clips
The Perfect Boutique Tied Bow on a Ribbon Wrapped Alligator Hair Clip
The Latest Design out of your Favourite Small Shop in San Diego, California.
Introducing our new AIYANNA BOW! Click here to see it in our shop! 
Perfect for dressing up your little girl's pigtails! The sizing is meant for toddler girls and up who have more hair than the fine, wispy hair that our smaller snap clip hair clips are famous for working perfectly in baby girl's hair. 
Can also side sweep bangs.
For those who loved the "Chelsea" Bows on Snap Clip... Larger, Holds More Hair and Available in 17 Modern Hues.
This is a Baby Wisp® Exclusive
"I designed these new Aiyanna bows to be larger, on a bigger clip to hold more hair. Such a sleek and modern look with my favourite colors, our high quality grosgrain ribbon (heat sealed so no fraying), on lead-free ribbon wrapped alligator clips. How lucky am I? My customers tell me directly what they want and I can make it."
Baby Wisp® Founder - Beena Masellis
Sizing and Design Specs - over 2 inches across!
Shop the pairs and explore all the colors! 
Our favourite - is the Nutmeg.
Article First Published September 9, 2020