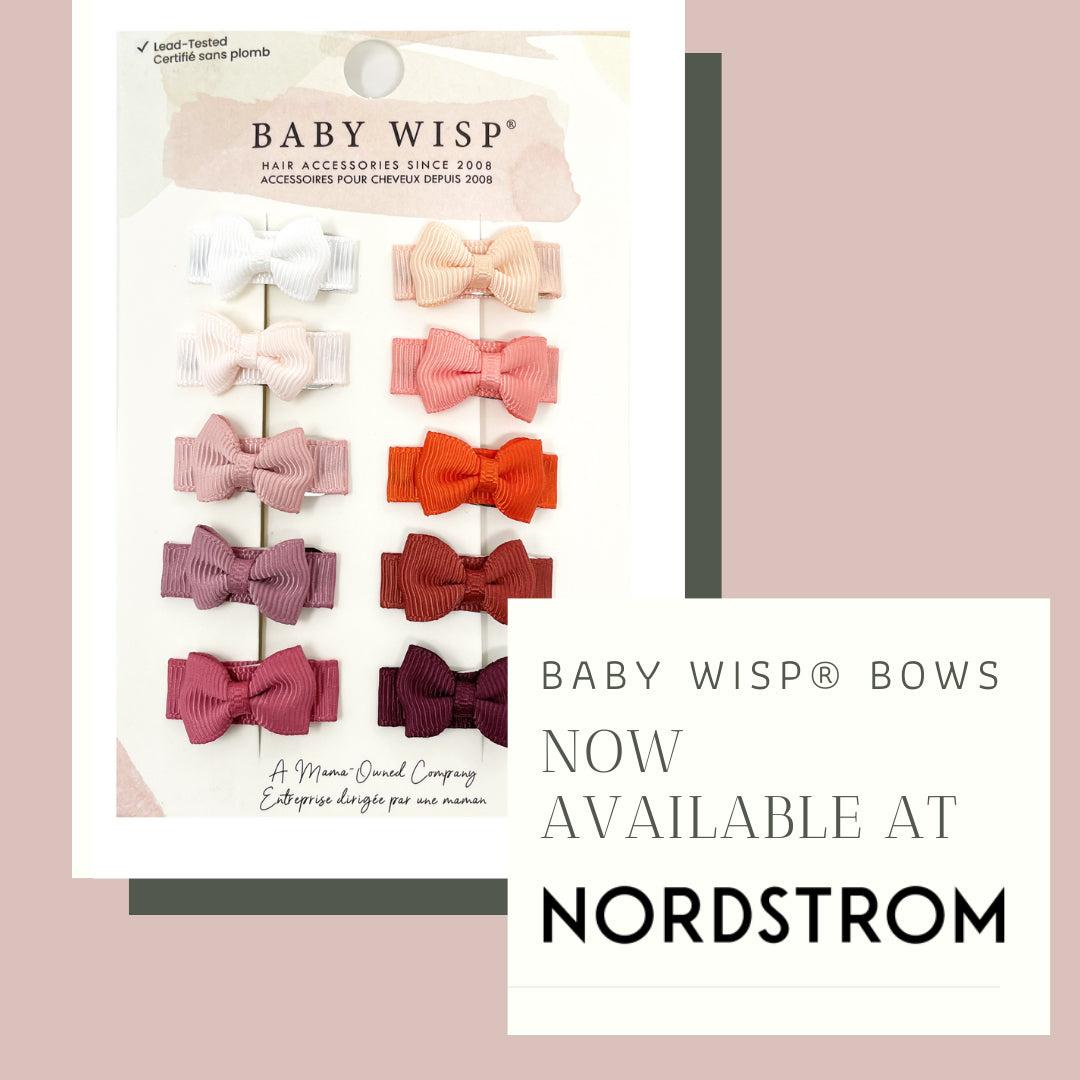 Exciting News! Baby Wisp® Hair Bows Now Available At NORDSTROM
Wow! This is So Exciting...
Baby Wisp® Bows Are Now Available at Nordstrom!

You've been an important part of the success of Baby Wisp®. We sincerely thank you! You can continue to support the growth of our brand by purchasing Baby Wisp® bows at retailers. 
Here's a spotlight on Baby Wisp® Bow Sets available for purchase at Nordstrom:
Pixie Set of 5 tiny tuxedo hair bows in a light and airy pastel color palette. Bows are attached to our 30 mm stainless steel ribbon wrapped snap clip. Colors include: White, Pale Ballet Pink, Light Grey, Blue Bell and Rose Taupe. 
SoCal Bloom Set of 10 tiny tuxedo bows in gorgeous warm, earthy tones to complement baby and toddler girl's Fall outfits. This set will ensure she has the perfect colored bow to go with her outfits each day of the week! Colors include: Ivory, Rose Taupe, Vintage Gold, Nutmeg, Moss, Chantilly, Oatmeal, Shell Grey, Midnight Mauve, Navy.
Coral Kingdom Set of 10 tiny tuxedo bows in beautiful warm and blushy shades to add a pop of color to her Fall/Autumn ensembles. Colors include: White, Chantilly, Rose Taupe, Rosy Mauve, Colonial Rose, Peach, Coral, Autumn Orange, Rust, Maroon. This set also makes a wonderful gift for baby girl. Easily add this cute bow set for the perfect baby shower gift that Moms will adore.