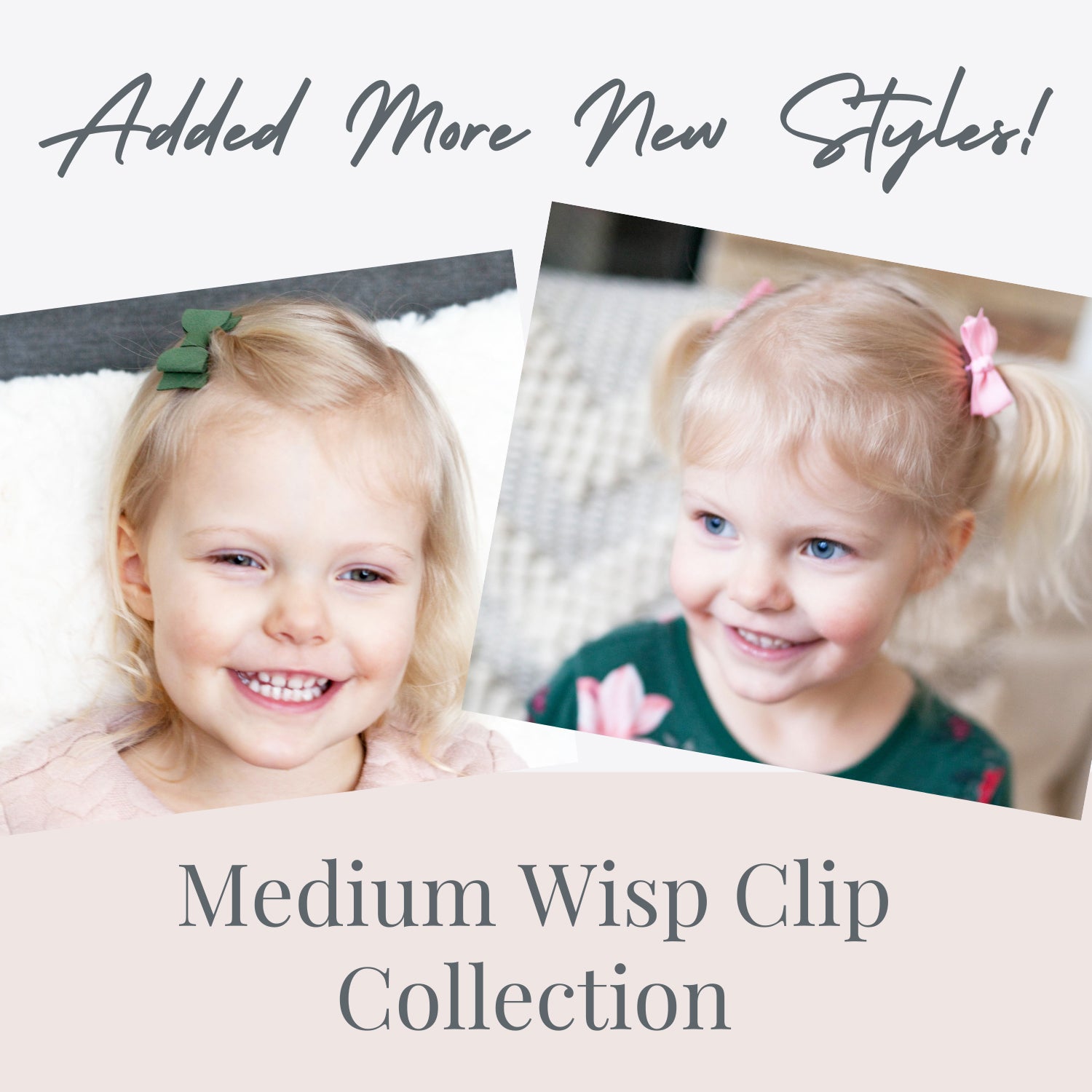 New Styles Added to our Medium Wisp Clip Collection: Billie Jean Bow & Aiyanna Bow
Introducing New Styles Just Dropped in our Medium Wisp Clip Collection 
Perfect for Baby & Toddler Girls with Fine Hair
*FOR A LIMITED TIME ONLY* - GET 20% OFF BILLIE JEAN BOW & AIYANNA BOW ON MEDIUM WISP CLIP
The NEW Medium Wisp Clip is a slightly bigger version of our best-selling Mini Wisp Clip and great for babies and toddlers who have more hair. It has the same comb style clip that you love and stays in comfortably and does not fall or slip off.  The Medium Wisp Clip holds more hair. It's the perfect accessory for babies and toddlers with fine hair!
We've added more new styles to our growing Medium Wisp Clip Collection! 
Our New Billie Jean Faux Suede Bow on Medium Wisp Clip is a cute princess inspired bow shape that pairs nicely with any outfit for any occasion. 
Billie Jean Bow in soft faux suede spans about 6cm wide and 2.5 cm tall.  Choose from 11 different colors.
Love our Aiyanna Boutique Bow on our Large Snap Clips and Alligator Clips? Now you can get the Aiyanna Bow on our NEW Medium Wisp Clip. This lovely knotted center boutique style bow is perfect for dressing up pigtails or side sweep bangs! 
The Aiyanna Bow in grosgrain ribbon spans 2.25 inches across and is available in 12 modern colors.