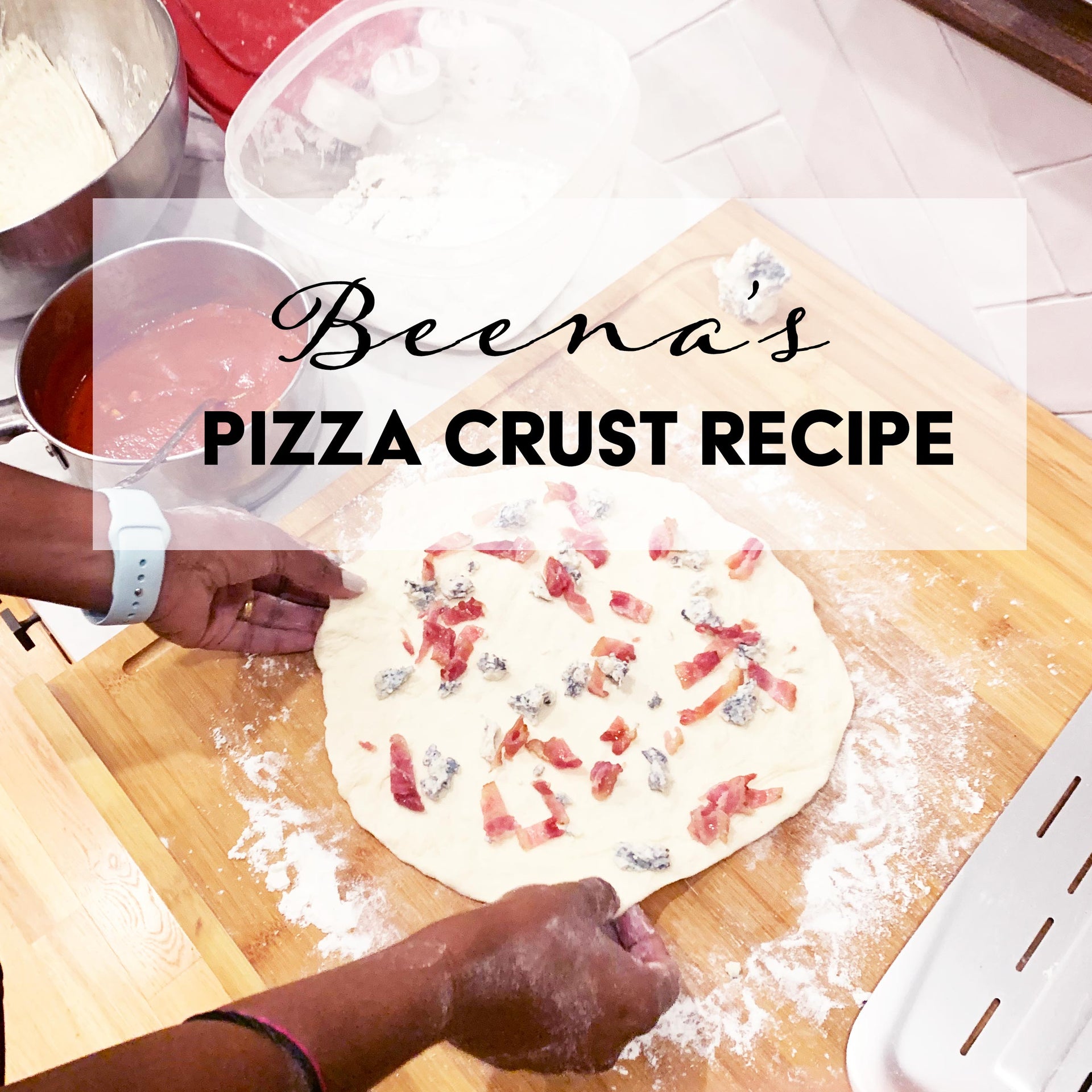 The Best Pizza Dough Recipe If You Want The Best Crust - Beena's Tested and True Recipe
Tips and Recipe to Make an Impressive Pizza Crust
How Do I Know What I'm Talking About?
Ok, ok you're totally wondering why this pizza recipe is on BABY WISP right? This is Beena here - I posted a story on instagram yesterday showing my pizza and the requests for the recipe was easier to post here than to get back to everyone individually! 
How I can tell you this is the best pizza crust recipe you need to try? -  I'll give you 3 reasons:
1 - My father in law who is straight up from Italy, more cred - he owned a restaurant serving italian food for 25 years told me it was amazing!  We've had pizza-offs LOL and my crust wins!!!
2 - I've tested probably about 25 other recipes and this one - never fails!
3 - Now that I have one of those OONI pizza ovens - this one if you wanted to see which oven.  My crust looks fantastic! 
Don't you hate scrolling through ads to get to the dang recipe?  Well, no ads - I'm not sponsored, I had such a good time chatting with everyone on my instagram story (@babywisp) yesterday and I live up to my word to share this recipe!  Here it is!!! ENJOY!
BEENA'S AMAZING AND DELICIOUS PIZZA CRUST RECIPE
Ingredients:
2 ½ tsp active dry yeast
½ cup lukewarm water
2 tsp salt
2 tsp sugar
1 Cup lukewarm milk
1 Cup lukewarm water
6-7 cups flour
olive oil
You can use this recipe to make focaccia bread too just also have some
coarse salt & rosemary/ sage leaves 
Directions: Preheat Conventional Oven 450F/ 230C
1.
Throw in a pinch of sugar in ½ cup lukewarm water with the 2 tsp of yeast into a large warmed mixing bowl. (You can warm large mixing bowl with hot tap water then drain.). Wait 10 minutes or until frothy.
2.
Add 2 tsp salt, 2 tsp sugar, 1 cup warm milk, 1 cup warm water and slowly (1 cup at a time) add in the flour until a soft dough forms. SOFT! not too much flour!
3.
Take the dough out of the bowl onto a lightly floured board and knead for 5 minutes adding enough flour so its not sticky but smooth and elastic and you can press down easily to make indentations.
4.
Rinse the bowl clean and dry it, then add olive oil to the bowl so its coated with oil.
5.
Throw the dough ball into the bowl and turn it over a couple of times so its coated with a thin film of high quality olive oil.
6.
Cover with plastic wrap and a clean dish towel.
7.
Let rise in warm place for 2 hours or until doubled in size.  Sometimes I put in oven with oven light on if my kitchen feels cold.
8.
Punch down, replace plastic, rise for one more hour. (I skipped this step once and it was a disaster, do not skip this)
9.
 FOR CONVENTIONAL OVEN: 
Divide dough into two equal pieces and flatten to about ¾ inch thickness onto a greased pan. (I use olive oil to grease the pan!)
Loosely cover with plastic and let rise another 45 minutes on the pizza pan before adding toppings. 
Drop on all your pizza toppings on and drizzle olive oil on the outer ring of crust (or it will stick) and bake for about 17 minutes or until until golden. 
11: FOR PIZZA OVEN:  Divide into balls about tennis ball size.  place on floured wood board and press out with your hands. 
TIP: You will be transferring this to the peel when ready to top- so make sure enough flour on bottom. 
You cannot top the pizza and let it sit.  You can only top it when it is ready to go in oven.  Make sure it is adequately floured on both sides or no hope. It will stick to your pizza oven stone and be a fiery mess!  How do I know this?  HAHAHA!!  Yes, from experience.  :)
TIP: Hand pressing out the dough creates that look you want with the edges so it doesn't look like frozen pizza!  
12. In that
OONI Oven
I have, you put it in for about 30 secs, pull out then turn it and put back in. They have lots of videos on how to do it. 
For the focaccia:
Once dough has risen after you have spread it on pan, you make big dents with your fingers, brush it generously with olive oil, sprinkle
with coarse salt and the herbs and place in centre of oven for 20- 30 minutes til golden.  Ovens vary so much - just watch it til you figure out the right time. 
Photos To Help You See How it Should Look
I didn't want to clutter your directions with photos above in case you were copying and pasting to print it out. Here are some below.
Here's a pic of how the dough looks in the oven. I had it covered in plastic then a cloth over top. I took the cloth off to show you the dough before I punched it down.
Spread it out with your hands, not a roller.  Don't use too many toppings.  When I over do it, then it is never as good.  This one here is just bacon and gorgonzola! I sprinkled a little shredded mozza on to fill the gaps. Not much.
I have done, gorgonzola and pineapple for my vegetarian friends and they love it!
This one below is pesto and mozzarella.  Look at that puffy crust!
Another tip - don't let it sit on a plate or cutting board to get soggy.  I always put it on baking racks! 
The pesto I use is the Kirkland Pesto from the fridge section.  I was about to add "when I don't make it from scratch"...hahaha kidding...but have made pesto from scratch like 3x in my life so I won't pretend about it!
Look at this crust again! I just wanna eat it all over again.  Let me know how it goes for you and if this was helpful.  Thank you for all the DMs yesterday and today, I truly enjoy chatting with my people. Join me if you're not there already @babywisp <3
Beena
2020-01-13