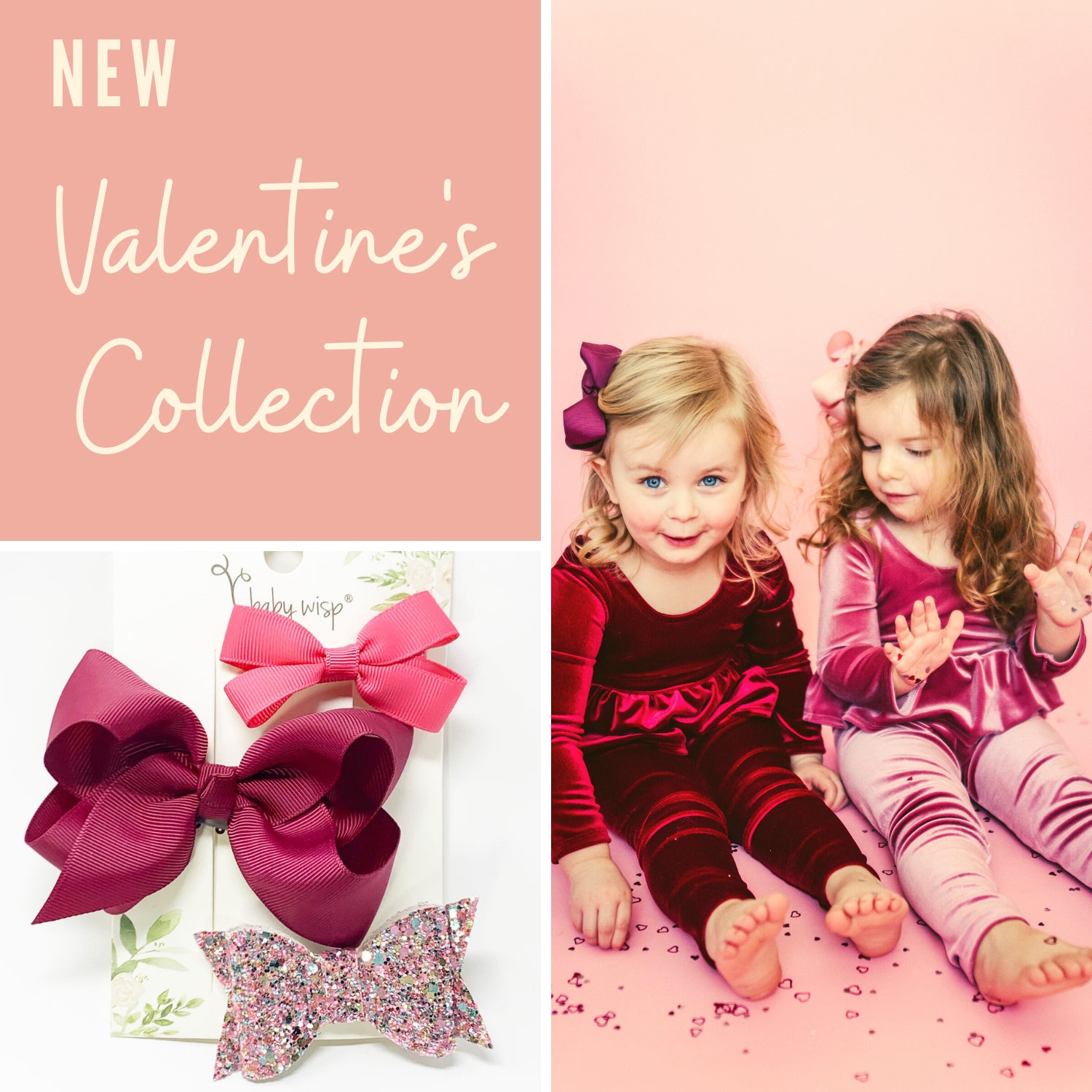 The Valentine's Shop is Now Open!
Beautiful Valentine's inspired toddler and baby bows perfect for this coming Valentine's Day!  
From suede bows to sparkly bows, see what's new in our Valentine's Collection! Dress up your little girl in cute bows to go with her Valentine's Day outfit. Whether it's baby's first Valentine's or your little toddler's second or third, celebrate the love! Go ahead and have a home photoshoot and take lots of photos to keep and share with family and friends. 
*Sale ends February 3, 2021 at 11:59 PM EST. No Coupon Required. Applies to Valentine's Collection only. 
Lots of pinks, warm blushes, reds and white bows to accessorize her Valentine's Day outfits! See some of our cutest bow sets in our New Valentine Collection. 
Check out some of our bow+outfit inspo:
Our cute Classic Fan Out bow is a favorite and for good reason. Simple yet graceful to dress up any outfit.  
Outfit: Patterned Ruffled Dress by H&M and 3 Wisp Clip Pink Bows Mixed Style Gifts For Infant Girls
Sweet pink baby Bows for baby girl and toddler girl - "Thali" Style Faux Suede Bow on our super soft brown nylon elastic.  These custom designed Baby Wisp faux suede bows have a cute modern style that makes the perfect baby accessory for any size head!  
 Outfit : 2-piece Sweatshirt Set by H&M and 2 Thali Faux Suede Bow Headbands For Babies - in Sweetheart Pinks
Go bold with our large Americana Bow! This big bow adds the perfect embellishment to complete her Valentine's outfit! Or try our shimmery and sparkly bow to add some glam to baby and toddler girl's fashion! Both are included in our lovely Valentina mixed bows set. 
Outfit: Ruffle-trimmed Dress by H&M and 3 Mixed Style and Mixed Clips Hair Bow Set For Girld - Valentina