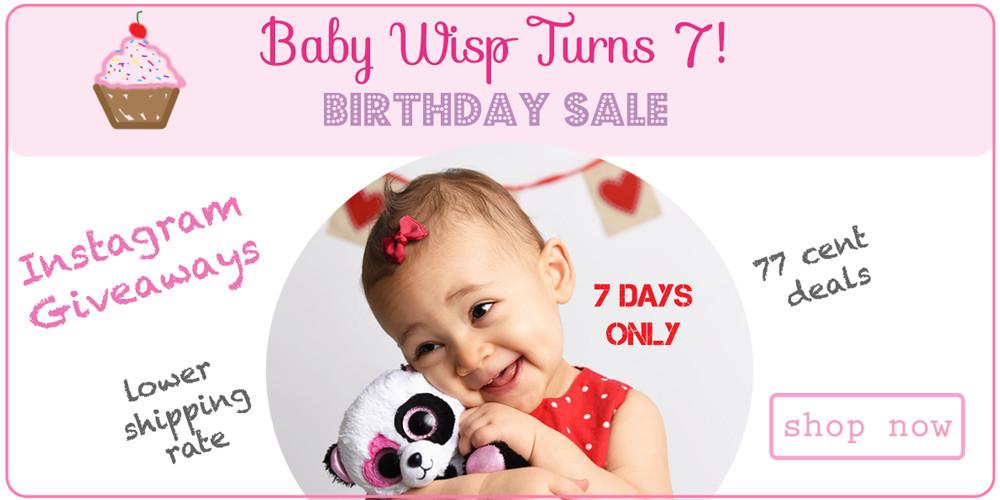 Happy 7th Birthday Baby Wisp! Time for 7 days of deals!
Happy 7th Birthday to Us!
We're lucky number 7![/caption] Seven years in a small business in such a competitive landscape is certainly something to celebrate.  So here we are - celebrating. Please join our newsletter for your 1000 bonus loyalty points >
here
< then start shopping our 77 cent deals that end in 7 days! Here's the details of our celebrations that you won't want to miss:
Our Birthday Sale is running October 16-22, 2015.
During this time, we have a BIRTHDAY SALE section set up in our shop which showcases some specials we have put together for you at varying prices of $0.77, $1.77, $2.77 and so on where you can find products at upto 80% off!
We are also featuring a Baby Wisp Collector's pack that you can purchase at 50% off in these 7 days only!  7 items that include various latch clips, pinch clips, and headbands ranging in ages from newborn to 3 years!  If you have ever wanted to sample our different types of accessories at a discount - now is your chance.                                                                                                                                                                                        
The free gift is now the GREEN trendy twist mini latch clip which you will love for the upcoming holiday season.  The trendy twist has been our best selling style in mini latch clip now for the past 3 months.                                                                                                                                                       
Another big announcement is that the weekly shipout we started last year has successfully worked! We've been able to reduce our costs and now bring this saving directly to our customers with a new reduced shipping rate of only $4.95!
Finally, we're giving away "loot", it is a party after all!  Seven days of giveaways begin October 16.  You can enter every single one if you'd like (WHY wouldn't you, that's 7 chances of winning!), every day on instagram we will post a new one for you to enter.  On October 23 we will announce the 7 winners, each winning a prize.  Follow us on instagram and start LIKEing the giveaway posts as that's all you have to do to enter.                                                                                                                                                                                                                                                                
  Note from Beena (owner)
In reflection over the past 7 years, it's hard to believe.  In 2008, I was selling my handmade bows and ribbon clips at an Edmonton Farmer's market and now here I am, sitting in my own office in Toronto with employees and a warehouse full of baby and toddler accessories that are now distributed all across Canada and now entering the USA and Mexican markets.  I couldn't be happier as owning my own business allows me the freedom to drop off my kids to school, and pick them up and take them to all their lessons.  It's a different motivation than I had 7 years ago.  Sure, I have to work at night after they are gone to bed and on weekends sometimes but the flexibility is any working mom's dream and I wouldn't trade it in right now.  I get to have fun designing the upcoming seasons colour palettes and bows and all the creative that goes into bringing it to market.  It's been such a fun ride, I just know this year is lucky.  It's lucky number 7 afterall, and I'm excited to see what's in store for Baby Wisp in 2016.
Thank you to all the customers, moms, dads, friends and family that have supported us in this company.  We obviously couldn't keep growing like we have without your support.   Please reach out to us anytime you have feedback, comments or style wishlists!
  Sincerely, Beena